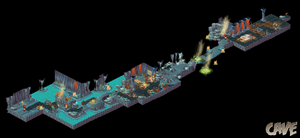 The first area you are able to re-explore.
Boss: Sergeant Skratch
Bow (in first chest)
100 coins (in first crate)
Rusty Helm (in skeleton)
Health potion (in patch of sunlight)
You: This cave is crawling with terrible creatures! Where could
they all be coming from!
You: I have to find Aron!
You: If I had some kind of rope, I could get up this slope.
Skratch: What are you doing here?
You: I've come for my brother. Where have you taken him?
Skratch: The only way to your brother is through me, little mouse...
Let's see if you do any better than he did!
Lucia: Hey, is that Aron's sword?
You: Yes, he's my brother. Do you know him?
Lucia: I'm an old friend. Actually, I'm on my way to see him now.
You: Well you're too late. A rat-creature said it captured him and
now he's gone!!
Lucia: A rat-creature! You mean the Muren have returned?
You: Uh...
Lucia: This is worse than I thought. If the Muren are back it means
he's in trouble --we all are!
You: Of course he's in trouble --they captured him!
Lucia: Aron wasn't captured. He's gone after them! I need to stop
him!
You: Wait, where are you going?
Lucia: To the jungle-- the Tomb of Moqulan. That's where Aron will
be going. I only hope I'm not too late.

You: If Aron's in trouble, I have to follow her.
Accomplishments
Edit
Ratter: Defeat 5 rats
Reward: 2 gems
I Hate Spiders: Defeat 25 Regular Spiders in the Cave
Reward: 2 gems
Cave Collector: Complete the Spidersilk Collection
Reward: 2 gems
Stoneskin Collector: (Advanced) Complete the Stoneskin Collection
Reward: 2 gems
Collections
Edit
Templar Robe Collection: dropped by the boss in advanced mode. (Limited)
Edit
Reward: Templar Robe (+5 health, +10% to hit with Magic attacks, +20% to escape effects)
Templar's Litany (Unlocks at level 20)
Cardinal Cashmere (Unlocks at level 20)
Jade Fastener (Unlocks at level 20)
Anoited Sash (Unlocks at level 20)
Spider Silk Collection: found in the dungeon
Edit
Reward: Spider Silk Pantaloons
Spider Silk
Venom
Muren Rags
Whip Belt
Stone Skin: dropped by the boss in advanced mode
Edit
Reward: Stone Skin Boots
Sheet Granite (Unlocks at level 20)
Sandstone Soles (Unlocks at level 20)
Crystal Buckles (Unlocks at level 20)
Spell of Binding Stone (Unlocks at level 20)
Vampire Bat Collection: dropped by the boss
Edit
Reward: Vampire Bat Cloak
Batwing Cape
Vampire Medallion
Carmine Collar
Elder Blood Enchantment